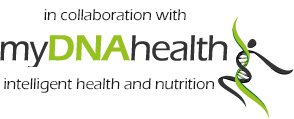 Sharon from Body Coach Fitness is now a myDNAhealth practitioner and able to offer there transformational genetic testing profiles and exercise , nutrition and lifestyle recommendation plans based on these.
Unlock your true potential health,weight-loss and wellbeing potential with myDNAhealth! DNA testing that transforms your body and lifestyle goals into reality. Helping you achieve long-term results.

"Your DNA is not set in stone .Diet and lifestyle changes can go a long way to change your health destiny!"

Gene testing is proving to be the key that unlocks the code to healthy living!

There are various different tests dependant on what results you require -each test will give DNA results with clear explanations of results to highlight genetic risks found. Clinical laboratory analysis with explanations and indicators to highlight lifestyle weakness and needs for behaviour change -Genotype dietary advice and eating plans and nutritional supplementation advice
When you purchase a test Sharon will assign -you a DNA test to complete (it can be sent to you) you complete the test-and you will also fill out relevant screening questionnaires in your own log in account/or via email (and on the DNA Complete test start the recommended 4-week detox lite plan -for example if applicable ) whilst waiting for test results which are normally completed within 4-6 week period on average .The tests are all quick ,simple and easy(Buucal mouth swabs) so non invasive . You will be notified of when results are ready and a face to face or Skype consultation will be arranged to go through tests results to ensure all instructions are understood and make sure progress is being made and to keep your motivation high throughout the program. A full recommendation nutrition exercise and lifestyle plan will be provided at consultation or via email/online unique to you.
*Please use Body Coach fitness discount code at check out for £10.00 off purchase*:-

SC10
myDNAhealth -Optimal Health Panel (Pro)
Eat more & Live Better ! Take advantage of your inherited strengths and overcome your limitations! As a my DNA health practitioner Body Coach Fitness is now able to offer the new-Optimal Health DNA Pro Panel - available only through professional health and nutrition practitioners - You are unique and you will get a personalised expert lifestyle, nutrition ,diet and exercise recommendations based on your myDNA health panel tests results. The Optimal health panel (PRO) has been designed to help you discover your health risks that you may have in your family. The report will provide you with empowering information to help reduce your risks and to improve well being and daily performance with small, easy lifestyle changes to implement . Your comprehensive report will provide an over view of how your DNA and lifestyle choices can influence your bodies response to the food you eat, appetite regulation, sleep patterns, stress level, risk for health problems such as obesity, type 2 diabetes ,high cholesterol and nutrient deficiencies.
If you are looking for small habit changes and want to know how your body responds to your diet, or to reduce your risk for some life-changing health problems -my DNA Health panel is the test for you. It includes the following:-
-Optimal Health Portal Access
-Health & Wellness Consultation
-Covering 25 Health reports with risk scores

-Wellness guide & tips
-Comprehensive DNA & Lifestyle Report ( With actionable Insights )
The test covers -sleep stress,appetite,regulation of saturated fats, cholesterol, insight into omega 3 & 6,balance of blood sugar control, inflammation and methylation , detoxification,oestrogen, APoE Genotype and coeliac risk score ,haemochromotosis, oxidative stress,lactose,response to cholesterol, antioxidants ,lifestyle ,diet and exercise scores.

*Please contact Mrs Sharon Clare at sharon@bodycoachfitness.com or 07875086760 for more details and to purchase this bespoke practitioner only test -RRP from £199.00*

myDNAhealth -Comprehensive DNA Panel

myDNAhealth Comprehensive DNA test panel uses a unique approach combining DNA results with an intricate lifestyle analysis. Understand your genetics in a detailed easy to read report.Discover individual genetic risk factors and identify specific lifestyle factors adversely impacting gene expression and future health. Explore highly personalised reports for lifestyle , nutrition and exercise.
*Please contact Mrs Sharon Clare at sharon@bodycoachfitness.com or 07875086760 for more details on pricing for this test *

myDNAHealth Comprehensive Panel & Coeliac Disease Panel
The combined comprehensive test panel with the coeliac disease test panel option is a cost effective package for evaluating genetic variants for general health and nutrition and a specific test for coeliac disease and gluten sensitivity. The main items evaluated in this combined test are- food cravings, sugar metabolism and sensitivity to carbohydrates, fat sensitivity and over-absorption, fat release ability and exercise type, methylation cycle, detoxification across both phase 1 & 2 pathways, oestrogen imbalance, inflammation, caffeine sensitivity, lactose intolerance, iron overload, glutathione, folate,vitamins C,D,B, magnesium, antioxidants, omega-3 & omega 6 ,PUFA metabolism & Coeliac & gluten sensitivity .
A perfect all round test for health, wellness and piece of mind!
myDNAHealth Comprehensive Panel Plus Coeliac Disease Panel

Price=£249.00
myDNAhealth Natural Supplements

myDNAhealth also have a complementary natural supplement range to accompany their genetic testing programmes . These are designed to be used alongside the programmes above,, however can be used as part of a healthy natural nutrition programme (advice from practitioner would be recommended).

Serene
Serene relieves periods of anxiety and stress- Serene is a natural supplement for healthy people containing nutrients that have stress and anxiety reducing properties to reduce daily anxiety and stress reactions. With increased stress levels , our adrenals are negatively impacted .Our adrenal glands start to go onto over-drive to assist us during stressful times .Consequently our adrenals produce too much cortisol which gets stored as fat within our abdomen .This is the stress cycle. Taking Serene will support the body during stressful times by reducing levels which, in turn, will not place pressure on our adrenals and prevent the stress -fat cycle from starting.

Nutritional information:-
Serene contains the following ingredients-

-(Panax Ginseng) Is used for improving thinking, concentration, memory, and work efficiency, physical stamina and athletic endurance. Panax Ginseng is used to help people cope with stress. It can help increase energy levels when exhausted and also decrease stress when we are wound up.

-Taurine- Is a neurotransmitter similar in structure to GABA and is in excellent stress relieving option. Taurine inhibits the release of adrenaline the "stress" neurotransmitter and is effective for a range of problems including migraines , agitation, irritability, insomnia and depression.

-L Theanine- Is an amino acid contained in green tea leaves which is a glutamine blocker .Glutamate is a brain hormone that irritates the brain causing damage. If we secrete too much glutamate under stressful conditions L Theanine rebalances the stressed brain by blocking the binding of L Glutamic acid to glutamate receptors in the brain. L Theanine has been studied for its potential ability to reduce mental ad physical stress.

-Hops- Are used for treatment for anxiety, restlessness, and insomnia. The relaxing effort of hops may be due, in part to the specific chemical component dimethylvinylcarbinol

-Vitamin B- I used in the methylation cycle to assist brain relaxing pathways an detoxification and hormonal pathways in the body. A deficiency in these vitamins can cause a brain to become stressed and irritated. Vitamin B is used in rebuilding adrenal insufficiency that follows prolonged stress.

-Other ingredients-Mg Citrate, N-Acetyl Cyseine,Green tea extract, Panthenoic acid, Nicotamide, B6,B1,B12

Supplemental Facts-
30 Capsules per tub-2 capsules per serving
(As directed by practitioner)




myDNAhealth Serene

Price=£29.00


Sugar Block
Sugar Block -Aids in sugar metabolism and is a natural supplement for healthy people to help process excess sugar and reduce weight gain. When we consume sugar , or other carbohydrate-rich foods that are quickly processed into blood sugar, the pancreas releases excessive insulin to mop up all of the sugar. Two things happen from her: The liver is called on to process the excess sugar and turns much of it into fat. The excess insulin blocks the body's ability to release fat from energy and leaves us feeling hungry for sugars again. This vicious cycle can quickly make us put on weight. Sugar block slows down the release of sugar into the blood stream which allows us to process sugar slowly as an energy source and prevents the body from turning into fat.

Nutrition Information
Sugar Block contains the following ingredients-

-Alpha Lipoic Acid-Is a fatty acid that naturaly occurs inside every cell body an dis needed for energy for out bodies normal function. ALA converts glucose (blood sugar) into energy and is also an anti oxidant by neurtralising potentially harmful chemicals called free radicals .What makes ALA unique is that it functions in water and fat and it appears to be able to recycle anti oxidants such as vitamin C and glutathione after they have been used up in the arteries. Other known benefits are 1) Lowering blood glucose levels and improving conditions of insulin sensitivity 2) Helping regulate lipid and carbohydrate metabolism and 3) chelation , the process of removing heavy metals from the body

-Cinnamon-Reduces blood sugar and cholesterol levels. One of the first human studies was published in 2003 in the journal diabetes care. Sixty people with type 2 diabetes to 1,3 or 6 grams of cinnamon in pill form daily- an amount roughly equivalent to one quarter of a teaspoon of cinnamon. After 40 days all three amounts of cinnamon reduced fasting blood glucose by 18 to 29% , triglycerides by 23-30% and LDL cholesterol (bad cholesterol) by 7-27% and total cholesterol by 12-26%

- Catecholins- (From decaffeinated green leaf tea) Appears to demonstrate the ability to surpress appetite, although a number of mechanisms may be at work. The major appetite suppressant factor lies behind its effect on norepinephrine and dopamine. By activating these 2 hormones , catecholins reduce our desire and hunger for food. Researchers believe that catecholins achieve this by inhibiting the breakdown of these 2 hormones leaving them to make us feel fuller for longer.

-Acetyl L Carnitine- Is a naturally occurring amino acid often referred to as a smart nutrient. For its role in supporting mitochondria in the brain cells. It also helps to improve cognitive abilities. This aids memory and brain function and also aids energy production in cells via the Acetyl CoA cycle and helps to favour using up glucose instead of cholesterol in this Krebs cycle , which reduces diabetic risk.

-Taurine- Is used as an aid in diabetic patients and people who struggle with over- absorbing sugars. It has been shown in mice to help regulate sugar metabolism and reduce the side - effects of sugar , namely cateracts artherosclerosis and kidney disease.

-Other ingredients- De Caff Green Tea Extract, Kidney bean extract,chromium and pure biotin


Supplemental Facts
30 Servings per container & 2 capsules per serving
(Take as directed by practitioner)


myDNAhealth Sugar Block

Price=£29.00
Reboot

Reboot is a natural supplement for healthy people to take daily to rebuild energy and restore health when burned out. Increased stress levels negatively impact upon our adrenal glands. As a result our adrenal glands release much less cortisol than usual. The effect is that we become fatigued and in severe cases sickly. This leads to poor eating habits. Taking Reboot daily will assist in restoring our adrenal glands , resulting in increased energy levels, exercise and healthier eating habits.

-Other ingredients- Cordyceps Sinensis, Liquorice Root, Panthenoic acid, Ashwagandha, Tripotassium Citrate

Supplemental facts
30 Servings per container- 2 capsule servings per day

Nutritional Information
Reboot contains the following ingredients-

-Korean Ginseng (Panax Ginseng) in 10:1 ratio-An extract that will boost a persons energy and provide more energy for exercise. It has been shown to increase your immunity and protect you from infections.In people who are truly exhausted , high doses of Panex can exhaust the further , but for the rest of us this is a remarkable adaptogenic herb that will really help to rebuild energy.

-Siberian ginseng- Is another of the Ginseng extracts. It works well in synergy with Panax Ginseng .It has been shown to increase energy , concentration and decrease absenteeism amongst workers who take it.

-Pyroxidine HCL (Vitamin B6)-Is used for the brain , to make the happy hormones Serotonin and Dopamine. Sufficient levels of these hormones helps to reduce stress and so helps to preserve our energy reserves. Vitamin B6 is also central in the methylation process which drives the liver detoxification process and so boosts our energy.

Magnesium- Is a nerve and artery relaxant .It reduces hypertension and decrease stress. Reducing stress is beneficial in reducing adrenal stress. Combining it with Potassium and Pyroxidine has been shown to reduce stress.
Sleep
Sleep-Promotes natural sleep and is a natural supplement that stills a busy mind and stimulates the natural production of melatonin to induce a restful sleep .Sleep is not addictive or habit forming. Insufficient sleep may lead to increased levels of hunger hormones called ghrelin and decreased levels of the satiety /fullness hormone called leptin , which could lead to over eating and weight gain. When we sleep we make 2 vital hormones that are associated with weight control: 1) Serotonin -our happy hormone is made when we sleep. Without this we default to binge eating and sugar cravings. 2) Cortisol in low doses is used as a sugar controller .With sleep deprivation we don't make enough cortisol and can suffer from energy dips and sugar cravings. Taking Sleep helps us both to fall asleep easier and to stay asleep longer. Achieving healthy sleeping patterns naturally supports our grehlin , serotonin, cortisol and prevents food cravings that occur with sleep deprivation.

Nutritional Information-
Sleep- Contains the following ingredients-

-Grifonia Simplificia Extract- A natural version of 5HTP providing the building blocks for making Serotonin in the brain which, as well as lifting mood, also improves quality of sleep

- Niacin SR( Inositol Hexaniocotinate) - Has been used for over 50 years to increase levels of HDL in the blood and has been found to decrease the risk of cardiovascular events modestly ina numbe rof controlled human trials . In the brain it has been found to induce sleep, but the mechanism of action is not clear.

- L Theanine- Has psychoactive properties and is able to cross the blood-brain barrier .Theanine has been studied for its potential ability to reduce mental and physical stress , improve cognition, and boost mood and cognitive performance in a synergistic manner

- Magnesium Glycinatels- Very important for the normal functioning of cells , nerves, muscles, bones, and the heart. It is also use to calm the sympathetic nervous system , which lowers blood pressure and reduces feelings of stress .It has been found to be useful for sleep, probably due to it's calming on the brain

- Calcium Lactate- Has been used for many years as a sleep tonic due to its calming action on nerves. It works particularly well in conjunction with magnesium

- Hops- Has been used as a treatment for anxiety, restlessness, and insomnia. The relaxing effect of hops may be due , in part to the specific chemical component dimethylvinylcarbinol

-Skull Cap- calming herb that is used to reduce anxiety , lower blood pressure and improve sleep.

Other Ingredients- Niacin

Supplemental Facts-
30 servings per container- 2 Capsules per serving
myDNAhealth Sleep

Price=£29.00
DETOX
DETOX-Supports healthy liver function and is a natural supplement to be taken daily to improve liver function . The methylation and glutathione systems are two of the important pathways that often collapse under the burden of toxins that our livers need to clear. Detox contains a comprehensive combination of ingredients tat are designed to work together to help the liver process toxins quickly. It is also designed for people who may have a problem with methyl donors

Nutritional Information-
DETOX- Contains the following ingredients-

-Betaine- Is a vitamin like substance .It functions as an anti oxidant , anti inflammatory , energy booster
, methyl and donor. Lowers homocysteine levels and helps liver detoxification .The methylation reactions anable toxins to become more soluble in water. This allows the body to remove toxins easier or it neutralises their toxic properties. Alleviates depression by increasing the bodies natural production of SAMe.

Acetyl L Cysteine- Is a mucolytic agent. It is an anti oxidant and has liver protecting benefits. It is converted into cysteine. In turn cysteine helps to produce glutathione , an anti oxidant that plays a key role in regulating many cellular functions and helps keep the immune system in check

- Riboflavin- Is a c- factor to the MTHFR enzyme which converts food pholate to methyl methyl pholate. It assists the methylation pathway and is particularly useful for people with methylation dysfunction and problems with methylating folate. The methylation pathway is an essential component of the liver detoxification system and a dysfunction here results in toxin accumulation through out the body.

- Pyrodoxine- Is vitamin B6 .It assists in balancing sodium and potassium as well as promoting red blood cell production . It can help balance hormonal changes in women and aid immune system.

- Magnesium Citrate- Is very important for the normal functioning of cells. It is also used to calm the sympathetic nervous system which lowers blood pressure and reduces feelings of stress. It has been found to be useful in aiding sleep , due to its calming action on the brain.

- Alpha Lipoic Acid- Is a fatty acid found naturally inside every cell in the body and is needed to produce the energy for our bodies normal functions. ALA converts glucose into energy and is also an anto oxidant by free radicals. It recycles anti oxidants such as vitamin C and glutathione after they have been used up in the arteries. Other known benefits include lowering glucose levels and improving conditions of insulin sensitivity , regulating lipid.

- Broccoli Extract- Is a source of glucoraphanin which creates sulforaphane when chewed or swallowed .The compound accelerates the bodies ability to detoxify from various pollutants.

Selenium- Is a mineral found in soil. It plays a key role in metabolism. It has anti oxidant properties that protects cells from damage.

Zinc- Is important for a healthy immune system , properly synthesising DNA, promoting healthy growth during childhood and healing wounds.

Vitamin B12- Is used in methylation cycle to assist relaxing pathways as well as detoxification and hormonal pathways in the body. A deficiency in these vitamins can cause a brain to become stressed and irritated. Vitamin B is also used in the rebuilding of adrenal insufficiency that follows prolonged stress.

-Other ingredients- Rosemary Leaf Extract, Inositol, Choline, Diindolylmethane

Supplemental Facts

30 Servings per container- 2 Tablets per serving
(As directed by practitioner)
myDNAhealth Detox

Price=£29.00
CRAVINGS
CRAVINGS- Reduces cravings and is a natural supplement to assist with reducing cravings and improve wellbeing. Cravings help to stabilise blood sugar levels. Cravings generally evolve as serotonin , the happy hormone decreases and we rely on dopamine ,the excitement and cravings hormone .If we can support both of these hormones then we can go a long way to breaking the habit of craving certain foods. This is a vicious cycle and can be broken down and stopped by taking the Cravings supplement , which focuses on increases in our serotonin/dopamine levels and also optimising the production of serotonin more efficiently , thus keeping us happy and reducing our cravings significantly.

Nutritional Information-
Cravings-Contains the following ingredients:-

-Griffonia- A natural version of 5HTP which is the food that makes happy hormones serotonin. Serotonin decreases when we are stressed or not sleeping. Adding Griffonia allows the body to make its own serotonin as it needs it. It improved serotonin levels and improved mood and reduced food cravings

- Sceletiumtortosium- Is a natural product, that prevents serotonin from being removed from the brain. It is a natural herb that comes from a Southern African plant. I has long ben used to enhance mood, cause relaxation and euphoria. Improved mood reduces our dependence on dopamine and so reduces cravings to dopamine.

- Pyroxidine -Has the added benefit of assisting in preventing glycosylation of the body. Glycosylation is the hardening that occurs when sugar binds to proteins causing cateracts and hardening of the arteries. Dopamine is the other happy hormone .When it runs out our mood drops, we start to crave junk foods. Sugary foods give the dopamine a boost and our mood drops. Replacing dopamine reduces the need for sugary hits to the brain

- L Tyrosine- Is the amino acid that makes dopamine naturally in the brain. It helps with cravings and mood stabilisation .It is also used with co-Enzyme Q10 as a natural supplement to help concentration and focus.

-N - Acetyl Cysteine- Comes from amino acid L Cysteine .NAC has been used in conventional medicine for more than 30 years ,primarily as a mucolytic (mucous thinner) inhaled to manage conditions such as cystic fibrosis , in which mucous is abnormally thick and tenacious. It is also used in psychiatry to decrease mood swings in bipolar patients. It helps to keep dopamine in the brain for longer ( a dopamine re-uptake inhibitor) This dopamine support is beneficial in reducing our cravings for junk food. NAC also has the added benefits of helping in the second phase of liver detoxification.

- CoEnzyme Q10- Assists in the formulation of dopamine. They are co-factors that help tyrosine convert into dopamine. Co enzyme Q10 is a naturally occurring anti oxidant that is found in cells and is eesential for generating energy. Often called the "cell energiser" for its part in energy production. Co enzyme Q10 factor is involve din many key body functions- breathing, muscle movement and digestion amongst them. Our immune system can also become weakened and our body's natural defences become compromised. On of the most important effects is on controlling cholesterol levels and lowering blood pressure. It is also a powerful anti oxidant , regenerating vitamin E and reducing the process of oxidation, which is so harmful

- Siberian Ginseng- Is a ginseng extract that has been shown to increase energy , concentration and decease absenteeism amongst workers who take it

Chromium- Is an essential trace mineral that helps the body maintain normal blood sugar levels .THe main benefit of chromium in weight loss is to reduce insulin resistance , resulting in lower body fat and increased muscle tone.

Other ingredients-5HTP, Alpha lipoic acid

Supplemental Facts

30 Servings per container- 2 Capsules per serving
Burn
Burn- Is fat release for energy during exercise and weight loss, and is a natural supplement for healthy people with strong adrenals. Burn increases metabolism and opens beta-receptors to release fat for energy and weight-loss. Burn has a unique selection of ingredients that assist the fat-burning process . The fat is released into the bloodstream where it is used for the body's energy needs .

Nutritional Information-
Burn- Contains the following ingredients-

- Green coffee bean - Contains the active ingredient Chlorogenic acid 45% .The chlorogenic acid aids fat burn and also prevents the formulation of extra fat by blocking excess absorption as well as the absorption of sugar. This ensures that weight-gain is kept at bay since the rate of metabolism is increased.

Acetyl L-Cysteine-Transport fatty acids into the mitochondria , therefore increasing the mitochondrias fat burning ability.

Kidney Bean Extract-Aids as starch blockers by inhibiting the starch-digesting enzyme amylase which other wise turns the starch you eat into absorbable sugar.

ConJugated Linoleic Acid( CLA)- Has been investigated to be a fat burner and health promoting agent due to its effect on a molecular signalling receptor family named PPAR which is related to fat burning steroid signalling , inflammation and glucose/lipid metabolism

- White willow bark- Aids in increasing the thermogenics resulting in an increase in the fat burning proves and metabolism which helps with weight-loss.

- Guarana- Is used traditionally to enhance energy levels .As a source of natural caffeine helps support mental performance and positive mood.

-Chromium- Is an essential trace mineral that helps the body maintain normal blood sugar levels. The main benefit of chromium In weight-loss is to reduce insulin resistance , resulting in lower body fat and increased muscle tone

Other ingredients- Niacin

Supplemental Facts
30 Servings per container- 2 Capsules per serving